Download literature on Agilitech services, technologies, and project success stories for the Energy, Food & Beverage, Biotech, and other industries. For regular updates on what's new, complete the email subscription form at the bottom of this page
Services for the Food & Beverage Industry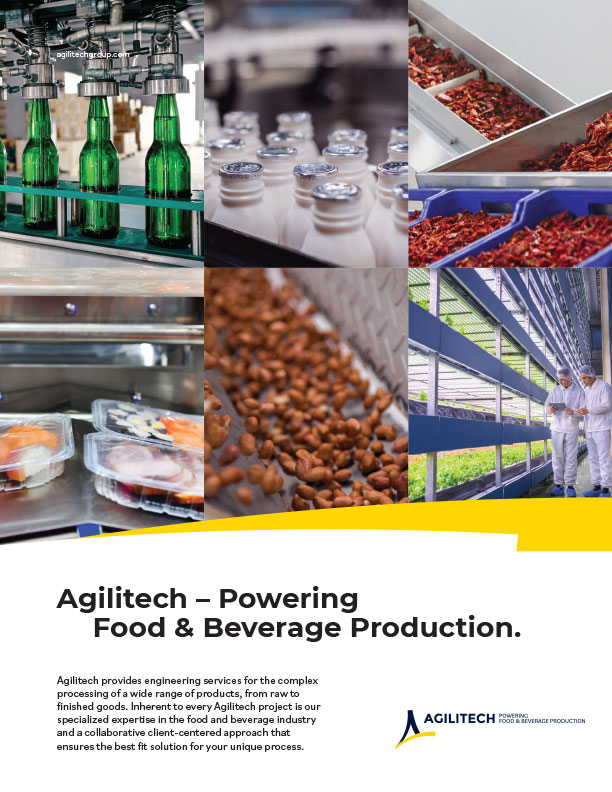 Overview of Services for the Food & Beverage Industry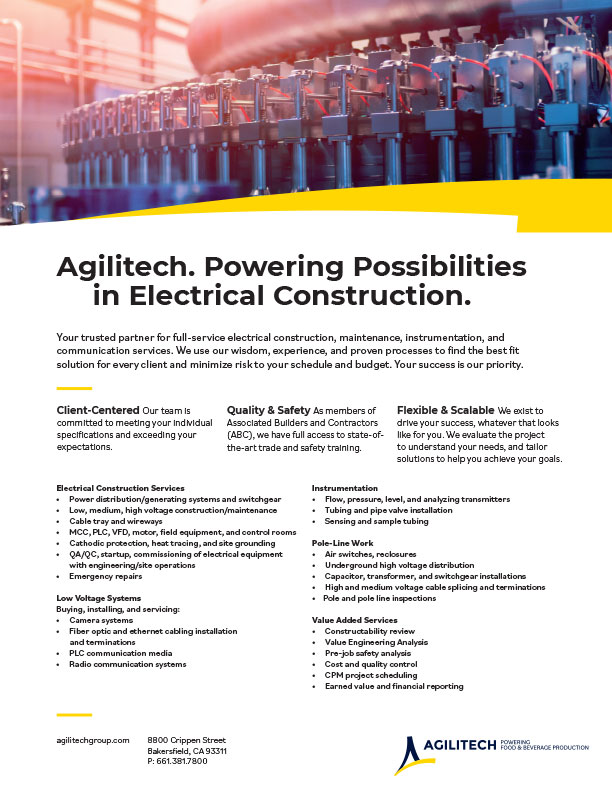 Electrical Construction Services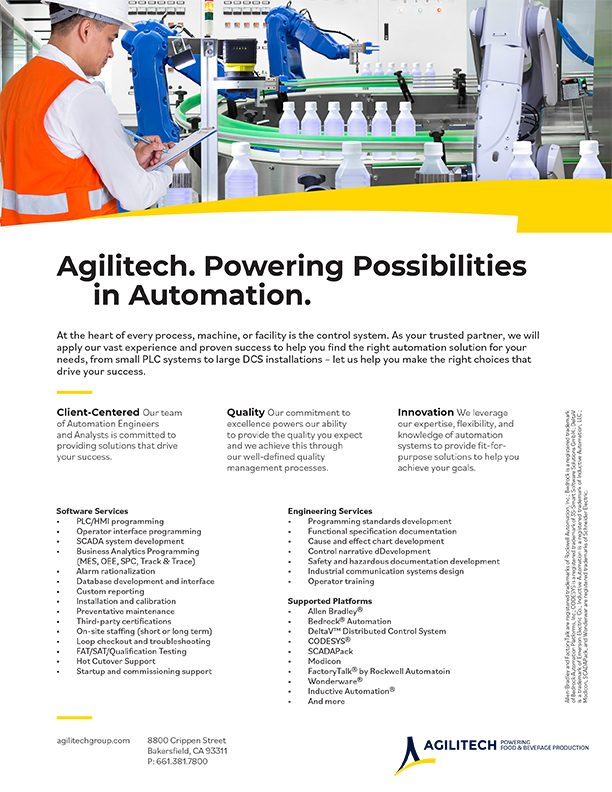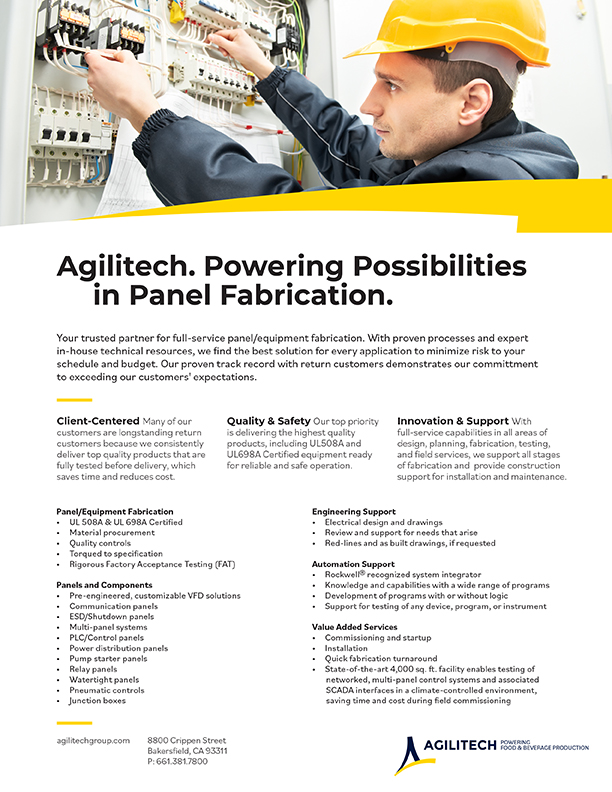 Panel Fabrication Services
Services for the Energy Industry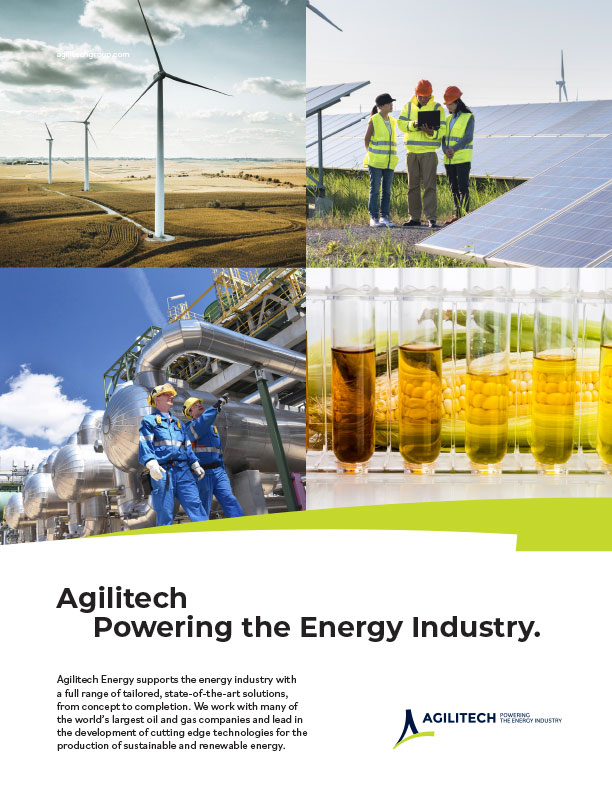 Overview of Agilitech Services for the Energy Industry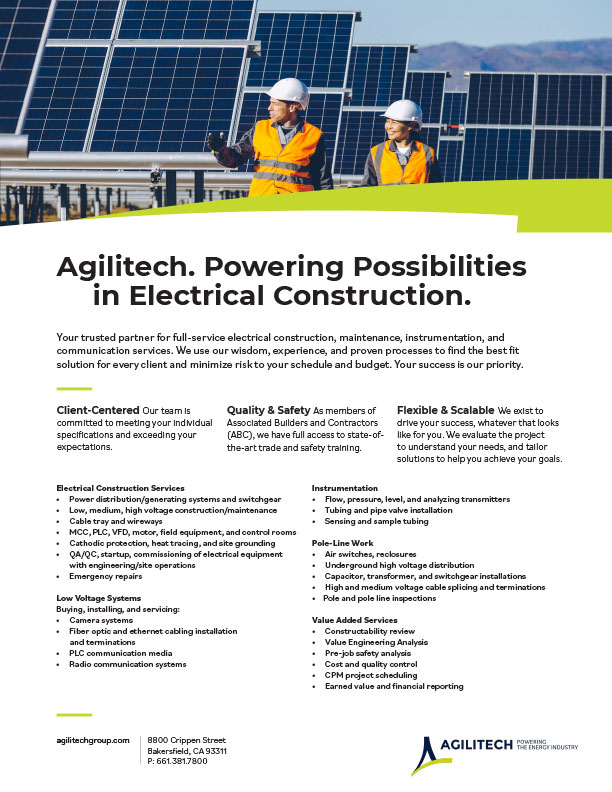 Electrical Construction Services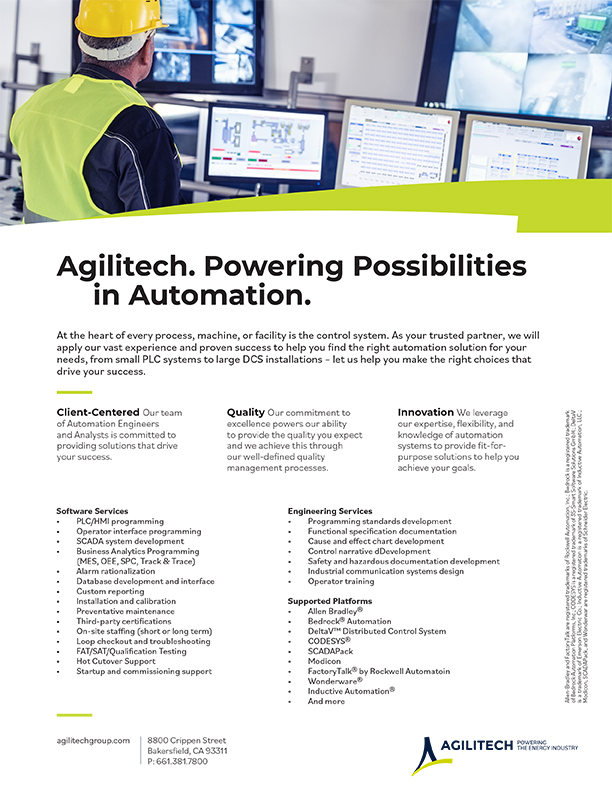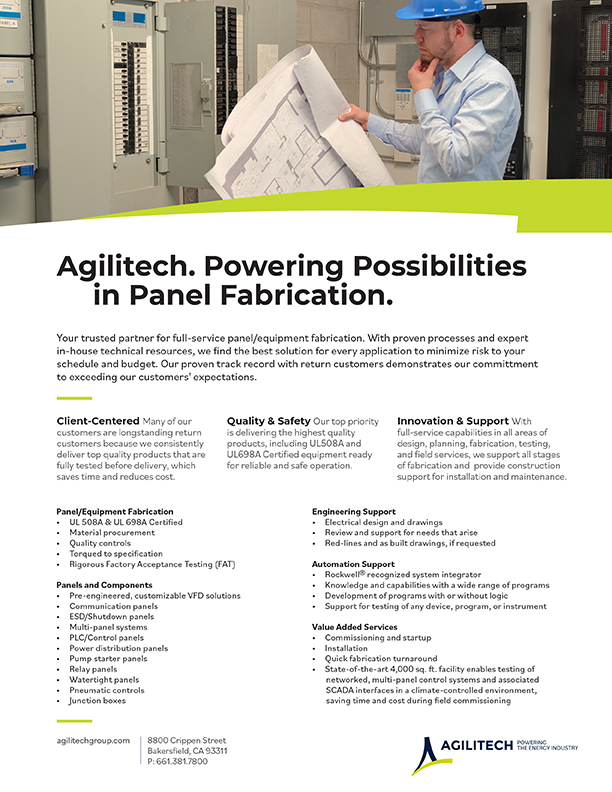 Services for the Biotech Industry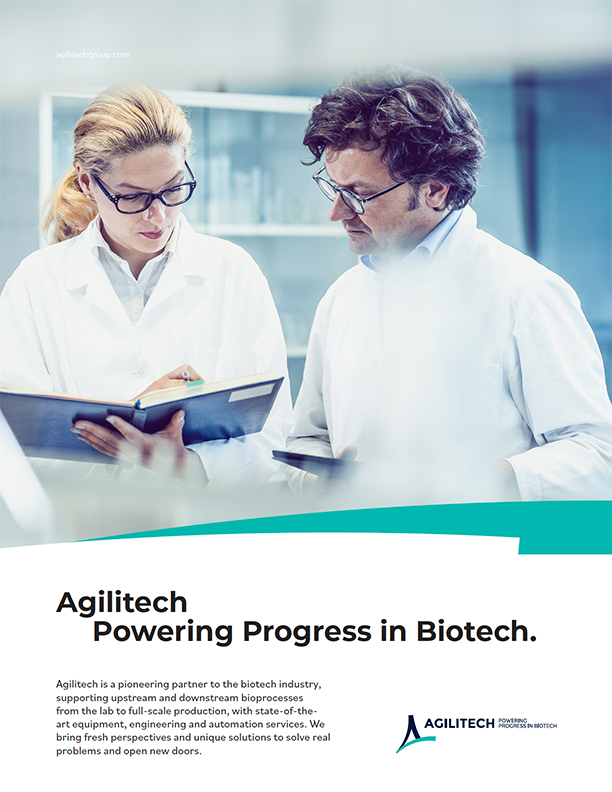 Overview of Agilitech Services for the Biotech Industry
Agilitech provides single-use technologies, engineering, and automation services for upstream and downstream bioprocessing. Visit agilitech.bio to learn more and download product literature.
Services for Other Industries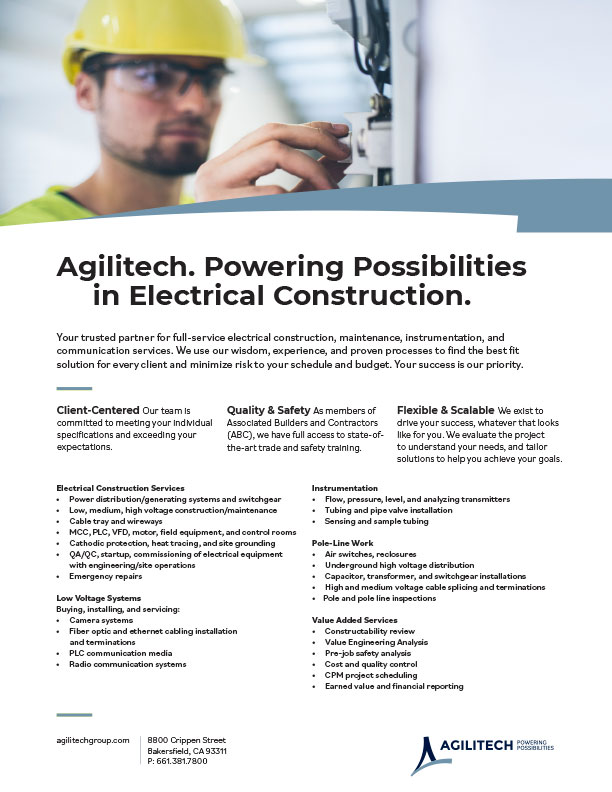 Electrical Construction Services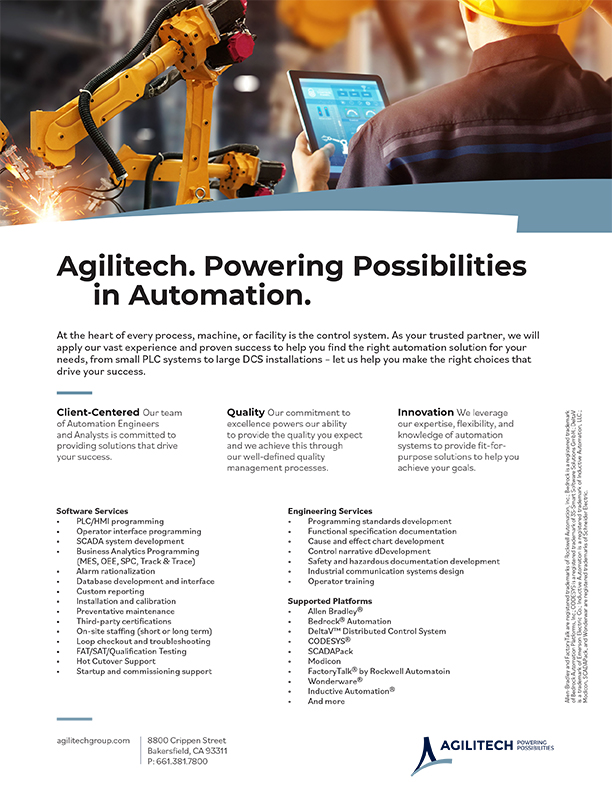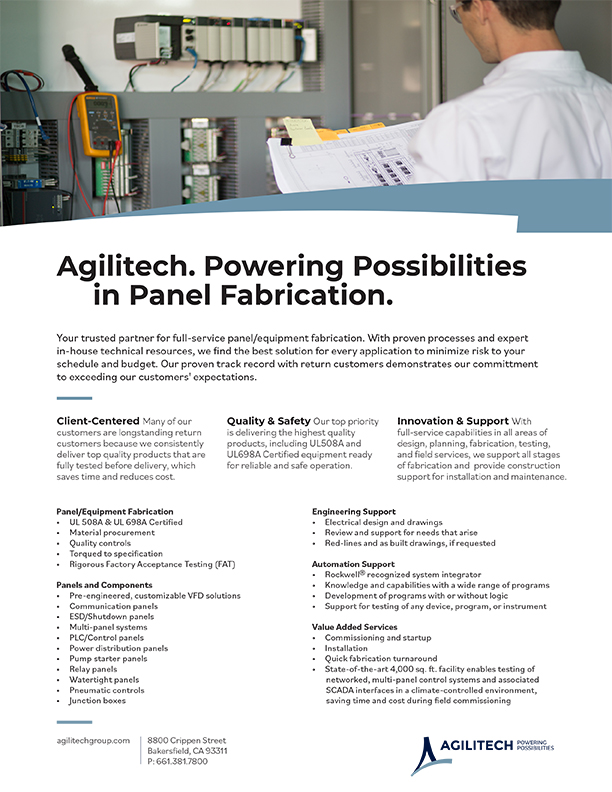 Panel Fabrication Services
Every day, we collaborate with our customers to solve their unique problems, applying knowledge and wisdom based on decades of experience. Read some of our project success stories to learn how we've partnered with our customers to enhance their business results and achieve their goals.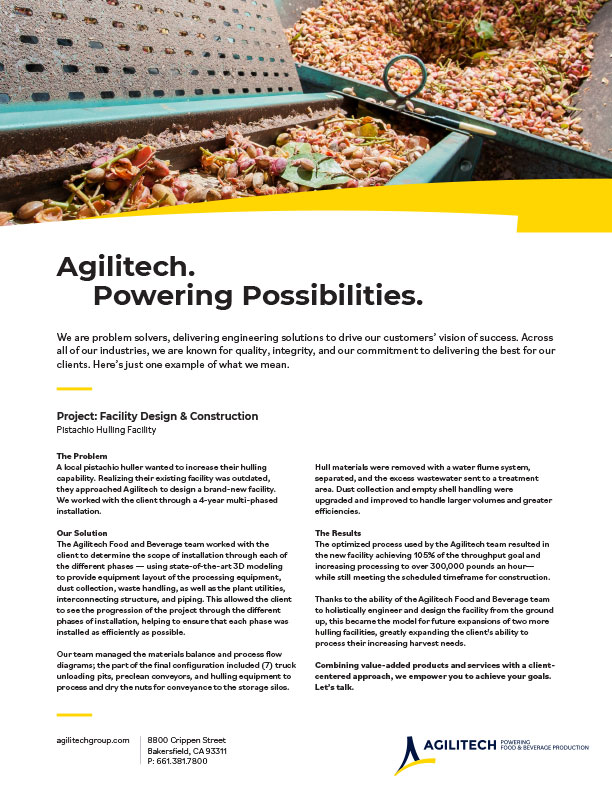 Facility Design & Construction
PDF (1.3 MB)
Agilitech helped a pistachio huller increase its capabilities by implementing an optimized process at a new facility, achieving 105% of the throughput goal.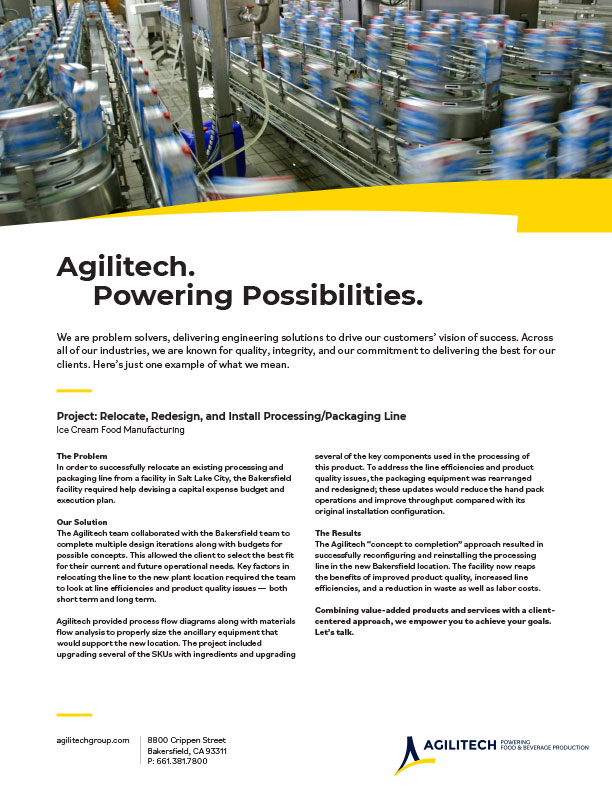 Processing/Packaging Line Relocation, Redesign, and Installation
PDF (795 KB)
Agilitech successfully reconfigured and reinstalled a processing line for an ice cream food manufacturer, resulting in improved product quality, increased line efficiencies, and reduced waste and labor costs.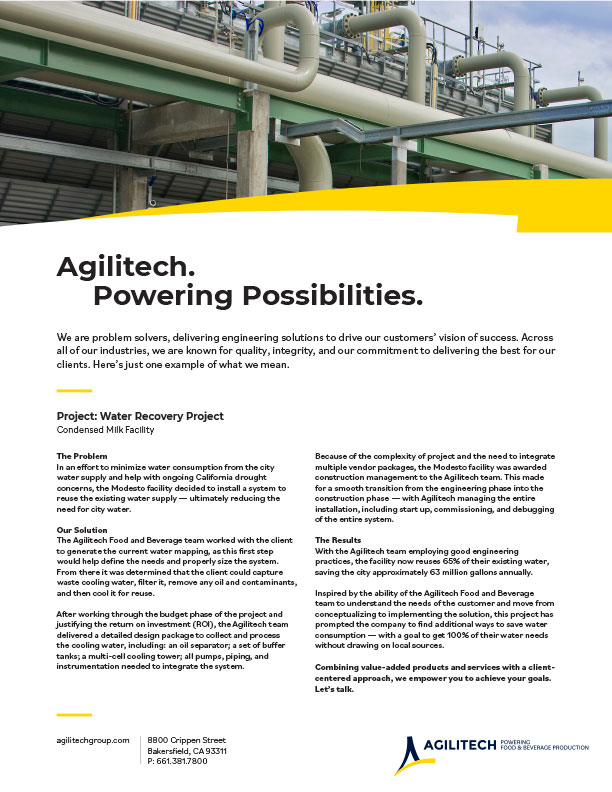 Water Recovery Project
PDF (997 KB)
With Agilitech's support, a condensed milk food producer is reaping the benefits of a new system that reuses 65% of its water, which also saves the city approximately 63 million gallons of water annually.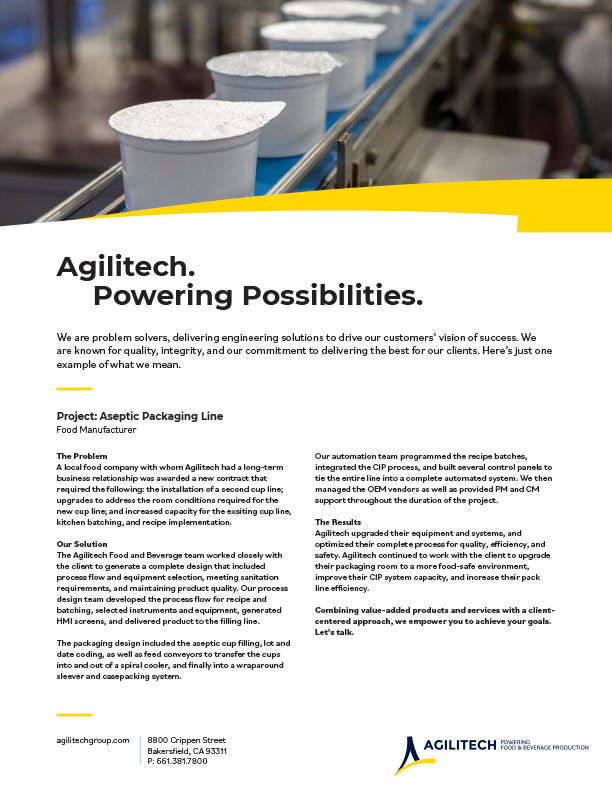 Aseptic Packaging Line
PDF (314 KB)
Agilitech optimized a food manufacturer's complete process to improve their CIP system capacity, increase pack line efficiency, and ensure a more food-safe environment.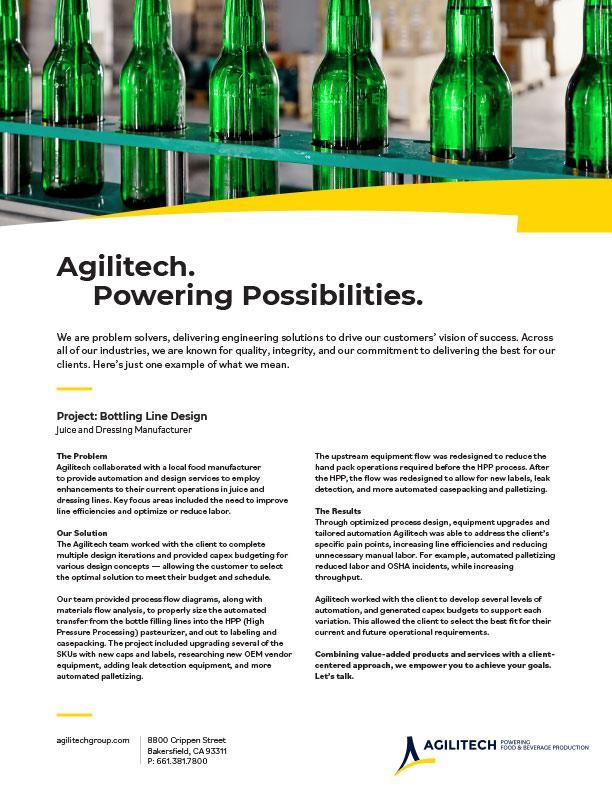 Bottling Line Design
PDF (674 KB)
Agilitech's automation and design team increased line efficiencies at a juice and dressing manufacturing facility, which included automated palletizing that reduced labor and OSHA incidents.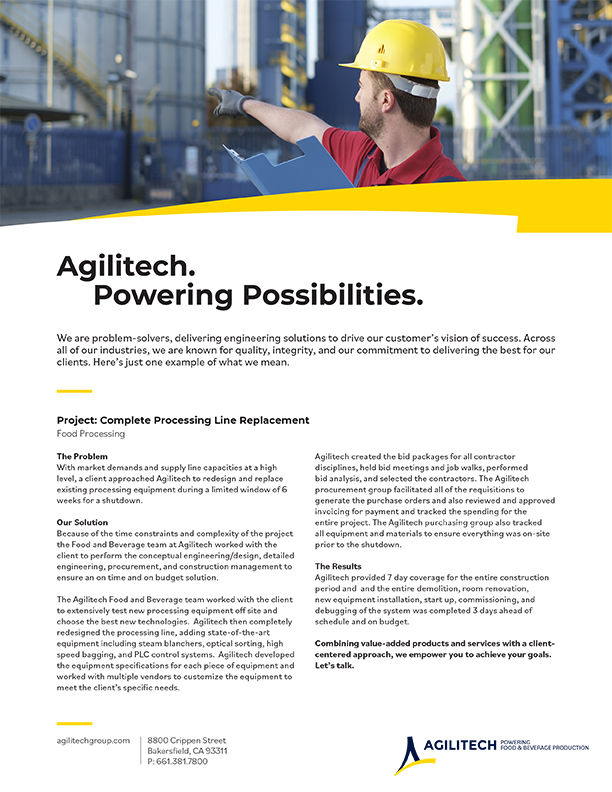 Complete Processing Line Replacement
PDF (433 KB)
Agilitech worked with a client to redesign and replace the food processor's equipment during a limited window of 6 weeks for a shutdown, delivering on budget and before the deadline.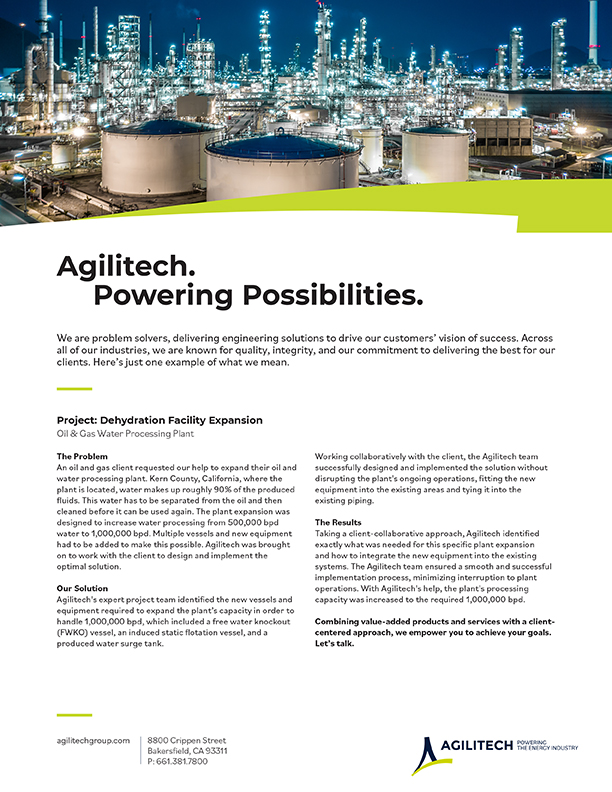 Dehydration Facility Expansion
PDF (992 KB)
In collaboration with the client, Agilitech helped to expand an oil and gas water processing plant. This expansion increased water processing capacity from 500,000 bpd water to 1,000,000 bpd and the solution was implemented with minimal interruption to  plant operations.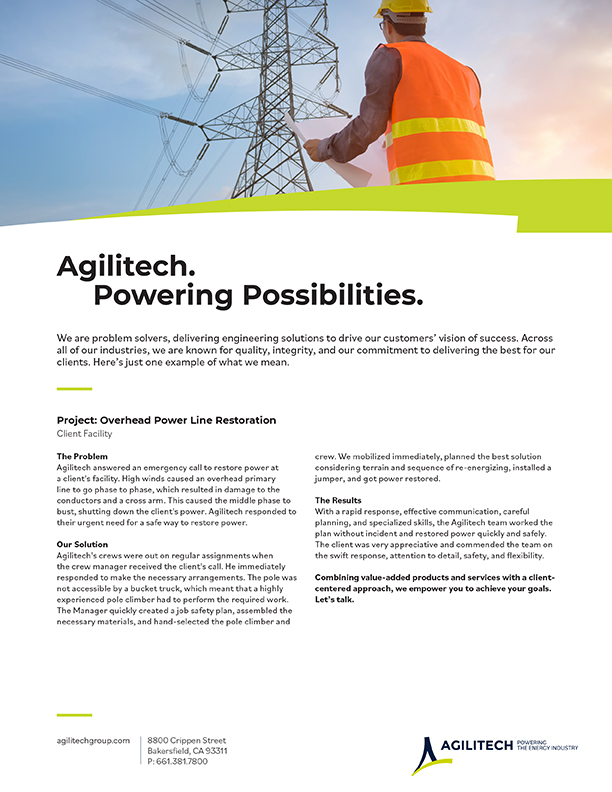 Overhead Power Line Restoration
PDF (429 KB)
Agilitech responded to an emergency call from a customer to restore power at their facility after high winds damaged the power line. The swift response of Agilitech's highly skilled electrical team ensured that power was quickly and safely restored despite difficult conditions and limited access to the line.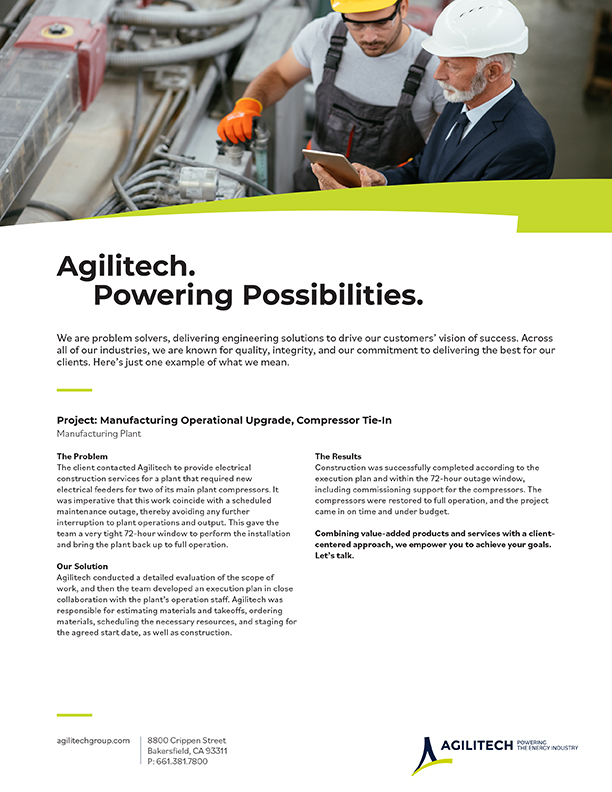 Manufacturing Operational Upgrade
PDF (1.2 MB)
Agilitech worked collaboratively with a client to upgrade the plant's electrical system, providing complete services from evaluating the project scope to developing the execution plan and construction. Agilitech delivered the project on time and under budget, and ensured that implementation was completed within a planned 72-hour outage window.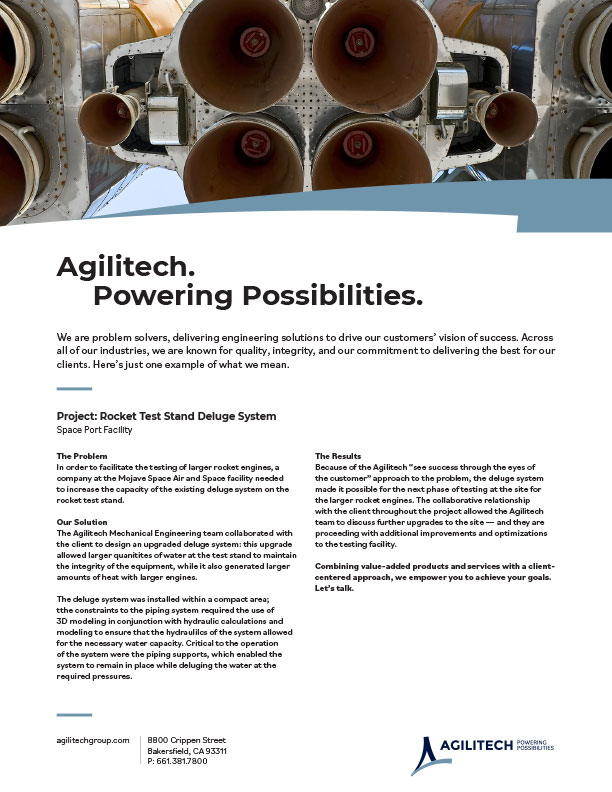 Rocket Test Stand Deluge System
PDF (362 KB)
Agilitech helps a company at the Mojave Space Port Facility increase the capacity of its existing deluge system, making it possible for the next phase of testing for larger rocket engines.
Join our mailing list!
Get email updates about our services, products, new case studies, and more. Please complete and submit the form below. You can unsubscribe at any time.